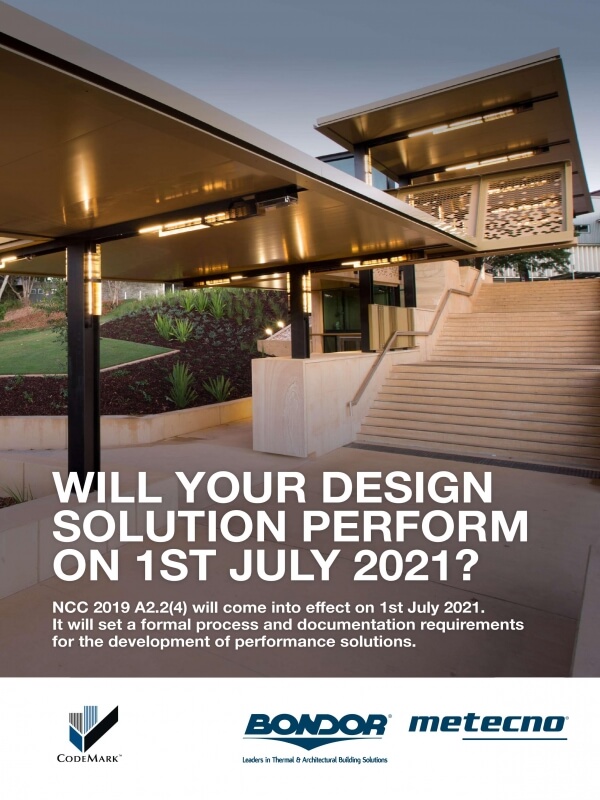 Simplify your performance solution pathway
Changes to NCC 2019 came into effect on 1st July 2021 and CodeMarkTM accredited products will save time in developing performance solutions.
The introduction of A2.2(4) in NCC 2019 identifies the process and documentation required for proposed Performance Solutions in order to meet Performance Requirements. The process demonstrates clear expectations, better information to end users and a greater auditing ability through improved record keeping and documentation.
However, this stringency could be challenging given the increased level of documentation. One ready-made solution is CodeMarkTM.
CodeMarkTM simplifies the Performance Solution process, as the Conformity Body who issued the certificate has undertaken analysis to demonstrate products meet nominated Performance Requirements.
Download this whitepaper to find out how this impacts your performance solution pathway and how CodeMark approved insulated panels can help in both residential and commercial applications. This whitepaper was developed in May 2021 to explore the implications of changes to the NCC which came into effect from 1 July 2021.
CodeMark Accredited Products
Bondor is a committed supporter of Australian Standards. We have been using CodeMark Certification Scheme Certificates of Conformance since 2013. We offer the largest range of CoC's in our industry covering insulated panels for walling and roofing profiles in both residential and commercial applications.
Download Product CodeMark Certificates
Roofing Systems
Walling Systems
Fire Rated Wall Systems (FRL)
Residential Building Systems
Download BAL/Bushfire Compliance
Roofing Systems
Walling Systems
Fire Rated Wall Systems (FRL)